Between the daily online rallies, and the myriad of memes sprouting up in the wake of each live broadcast, Singapore's General Election 2020 is shaping up to be the first truly digital one, as social distancing measures continue amidst the Covid-19 pandemic. Social media has not only become the tool of choice for contesting parties to campaign, but also a platform of engagement with the masses, who are moving towards an online means of communication. 
If you have spent a considerable amount of time on social media the past week, you were bound to come across a piece of news, or an opinion shared about the elections in no more than five swipes of your feed. We're here to bring you a social listening snapshot of all the trending parties, leaders, conversations, and issues we were able to obtain through our social listening platform, Digimind Social!
🗣️ Concerns About Job Safety and Covid-19 are the Talk of Town
A look at popular keywords that have surfaced on public discussions and posts in English, from 26 June to 7 July 2020, shows that issues related to Covid-19, money, tax payers, and the older generation are very much top of mind among Singaporean internauts. A recent controversy around Workers' Party candidate, Raeesah Khan, was also a major topic of discussion on social media.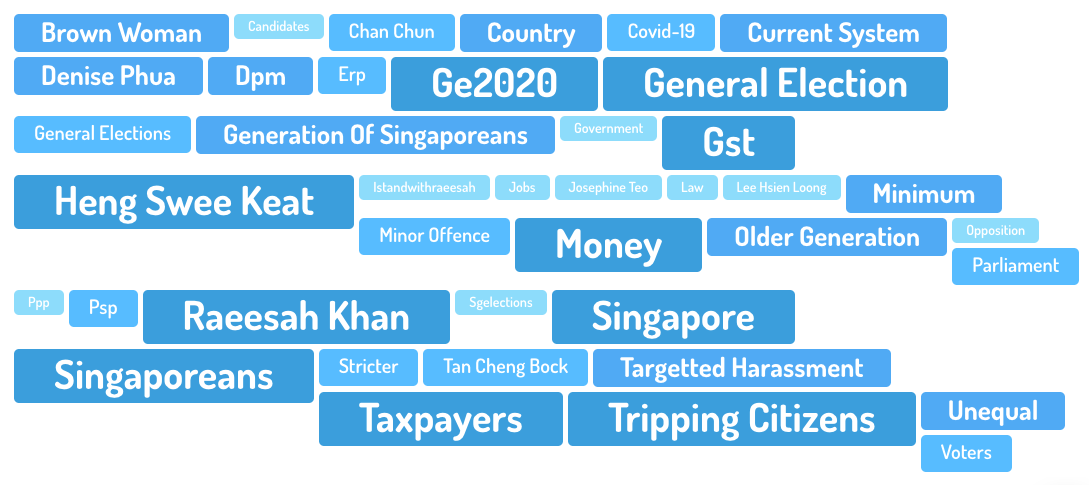 Historically, the General Elections have been a platform for highlighting common areas of discontent on a public level, and as social conversations have proven, GE2020 is no different. Concepts such as "GST" and "ERP" were also highlighted in public debates, along with a flurry of political party acronyms that were mentioned in public online posts. 
Looking at the distribution of online conversations across key issues, here are the concerns that Singaporean internauts have been most vocal about on social media: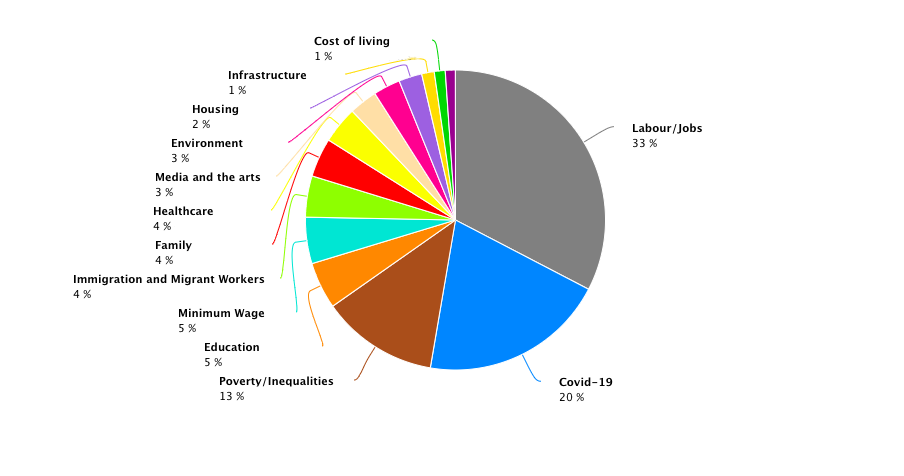 💼 Labour and Jobs
Concerns surrounding labour and jobs in Singapore generated the most conversations, which reflects the recent turmoil over job uncertainty and retrenchment in the past few months as a result of the pandemic. It is undoubtedly one of the more hotly debated topics that contesting political parties, including the incumbent People's Action Party (PAP), have voiced out with policies and programs to increase job openings and encourage reskilling.
⚖️ Poverty and Inequality
Within the top three categories with the highest share of voice, poverty and inequality were also frequently mentioned, with more talk on helping the elderly and the disadvantaged, promising better social safety nets. This is one arena that the younger generation of voters are increasingly keen to see the government prioritize, whether through implementing minimum wage or abolishing the retirement age. 
The dogged insistence that poverty is due to personal failings in an otherwise perfect system is attractive to those who benefit from the system. It absolves them from admitting the inequalities built in & acknowledging their responsibility to fix them. #GE2020 https://t.co/58w9ueYIj0

— Dhevarajan Devadas (@historyogi) July 5, 2020
⚡🔨 PAP and WP Lead the Race in Online Share of Voice
Throughout GE2020, PAP has been leading with 43% share of voice, with the Workers' Party following at 27%. This can be attributed to significant coverage from mainstream news media such as The Straits Times and Channel News Asia. Between the PAP and the collective opposition, it seems that the volume of online discussions are split almost down the middle.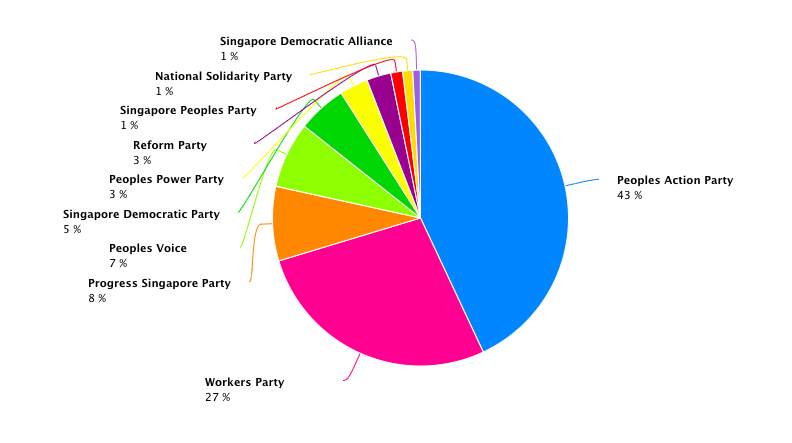 With the majority of GE2020 rallies taking place online, a party's share of voice is indicative of their online visibility among voters on social media, as well as the effectiveness of their campaigns in driving public discussions and news coverage.
💡 3 Things We Learned About Leadership and Branding From GE2020
In the eyes of the public and the media, parties and their leaders are closely intertwined. This interconnectedness has been proven with various candidates dominating online discussions, along with the above mentioned concerns and issues.
Based on our analysis of conversations around leading candidates, we also found that social media has turned into a fervent battleground for political leaders to rise to prominence, with different individuals taking the spotlight. 
Owing to his position as the Deputy Prime Minister (DPM), as well as the added scrutiny around his move to the contesting team for the East Coast GRC and public statements made throughout the General Elections, Heng Swee Keat is one candidate that has been the focus of online posts.

A political party needs leaders to back it. And with polling day drawing closer and closer, we've seen how prominent politicians have turned into social media celebrities, or the target of detractors within a matter of days. Whether it's for their candour or charisma, we cannot deny that leaders are pretty much the face of their respective parties, as much as their policies and manifestos. 
Here are three things we learned about leadership and branding, after analyzing public discussions around candidates studied: 
Your leader = the face of your brand

A sound crisis management strategy is a must 

Social media: the gateway to connecting with your audiences
1. Your Leader = The Face of Your Brand
Internauts perceive candidates as extensions of the parties they represent. In the age of social media, this could not ring more true for brands. A charismatic leader who is publically active and engaging on social media, can go a long way in humanizing your brand. Over time, customers will grow to associate the company with the individual that represents it.
2. A Sound Crisis Management Strategy is a Must
The incident around Raeesah Khan, coupled with the WP's timely response and the involvement of its leaders, demonstrates the following: 
It's essential to be extra vigilant in monitoring not just your organization's leaders, but also your team members as potential hotspots for online conversation 

Crisis management teams must be adequately prepared to manage negative buzz, and individuals who are involved or impacted by public scrutiny 

Making your spokespeople and upper management accessible and open to communication during the immediate stages of a crisis can help you rebuild credibility and trust; so does consistent messaging 
Additionally, you should also monitor the social platforms that your audiences are most active on, so you can discern what issues of contention should be addressed and resolved first.
Read more in our guide on 20 Social Listening Strategies for Crisis Management.
As more and more audiences head to online channels during Singapore's General Election 2020, so have politicians. With more individual candidates having their own social media profiles on Facebook, Twitter, and Instagram, this is a testament to social media growing as an important platform to connect with the younger generation of voters. 
Online profiles are a gateway to reaching an audience beyond the parties' rallies, and to connect with people on an individual level. It helps to show sincerity and personality too! As candidate Tan Cheng Bock's rise to "hypebeast" among young internauts on social media has shown.
With the majority of campaigns and rallies being held virtually, it's more important now than ever to build a strong digital presence. This is crucial for staying top of mind with voters, and reaching a wider set of audiences than a physical setup can achieve.