Posted: by The Editor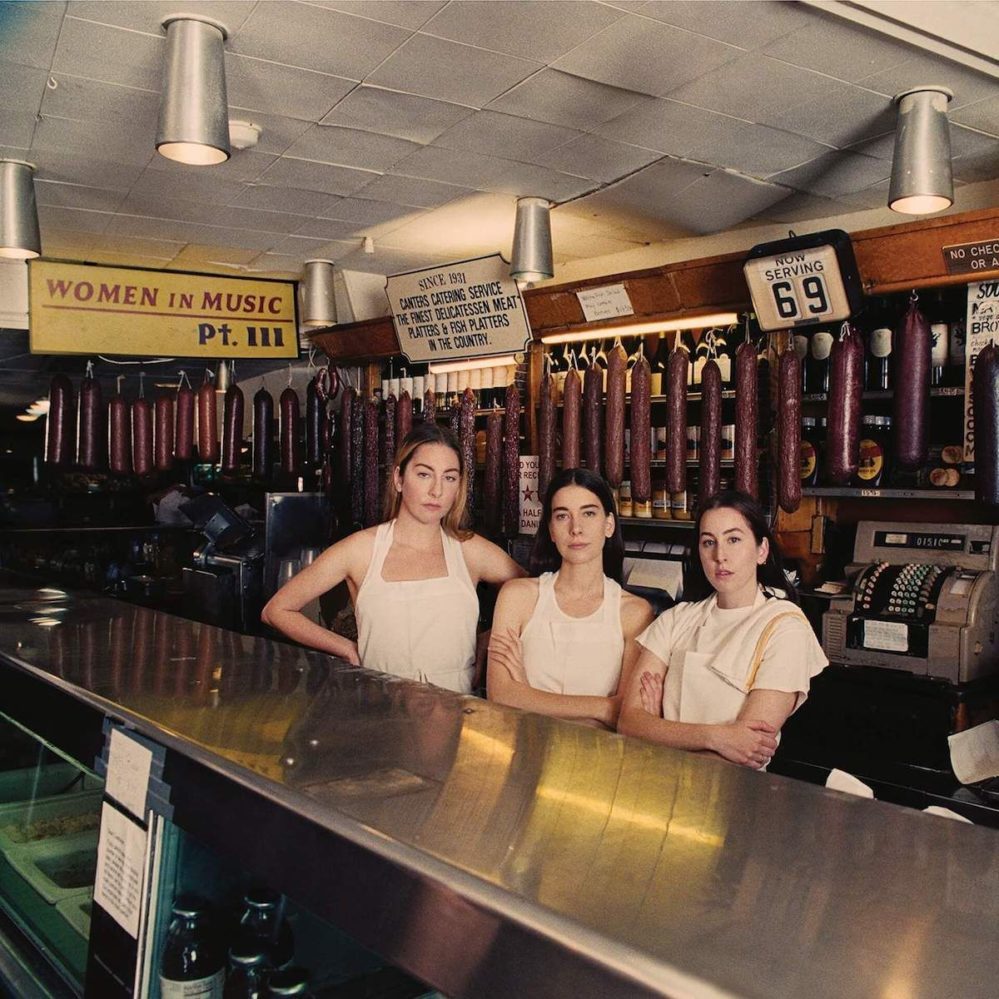 "Los Angeles, give me a miracle / I just want out from this" sing Danielle, Alana, and Este Haim on "Los Angeles," the opening cut from their third album, Women in Music Pt. III. It's a wistful love letter to the city they call home, but feels sepia toned, imbued with warmth. Much of the record feels this way—while the matters at hand are deep, it expresses them with the bright guitar and uptempo drums that fans of Haim find comfort in. 
 The record's artwork depicts the three sisters standing behind the counter at LA's famed Canter's Deli. They pose with hardened expressions as they stand against a veritable curtain of deli meats. Accompanying the title, it's hard to see this as anything other than Haim pronouncing themselves amongst the overwhelmingly male music industry. While the title is tongue in cheek, its point stands—Haim is one of the few festival headliner tier bands that is composed entirely of women. The standout "Man from the Magazine" is the only track that approaches balladry and is the only one written solely by the three sisters. They tackle the sexism they've faced since their band broke out and do not mince words—no longer will they play along. "Man from the music store / I drove too far / for you to hand me that starter guitar." They're a band of accomplished rock musicians and use this album to hammer that home. 
Haim's music can sometimes come across as overly polished—WIMPIII toes the line of feeling a bit too Urban Outfitters for its own good—but the album's precision feels intentional, evidence of a band very aware of what they want from their sound. The songs benefit from the contributions of longtime collaborators Rostam Batmanglij and Ariel Rechtshaid. The intimate but exuberant sound of WIMPIII feels like the result of the chemistry between the band and their producers. 
Many of the album's sixteen tracks surpass the heights of their star-making debut. An enormous part of the band's appeal is how they pull in bits and pieces from other genres while still being a rock act. "3AM" leans the hardest on the R&B they've been sprinkling into their music for years and finds them swearing off late-night booty calls over thumping bass. Its voicemail skit opening is cheesy, sure, but it fits with the album's self-aware playfulness. "The Steps" is the best of the guitar-forward offerings on display. It's a pleading song, as Danielle tries to get the point across to her partner that while they're codependent in some ways, she is her own person with her own life. Bolstered by a very cool guitar lick, it feels like a love letter to many of the classic rock acts they started their music career covering. The standout, though, is "Don't Wanna," a spry tune that feels like a direct callback to their earlier work. Built around an insistent drum machine and bass, it's draped in flowing guitar that feels extremely 70s. While the song is about not wanting to end a doomed relationship, it builds into a chorus that sounds downright celebratory. 
Haim has elevated their craft while staying true to some formulae that helped them break out in the early '10s. WIMPIII sees their songwriting move from broad ideas to personal anecdotes and improves on their format. They can still make a solid indie-pop song, but they're experimenting more than ever. They're a band at the top of their game, and the only surprising part is that this peak is coming so soon.

Disappointing/Average/Good/Great/Phenomenal
---
—
Eric Bennett | @seething_coast
---
The Alternative is ad-free and 100% supported by our readers. If you'd like to help us produce more content and promote more great new music, please consider donating to our Patreon page, which also allows you to receive sweet perks like free albums and The Alternative merch.