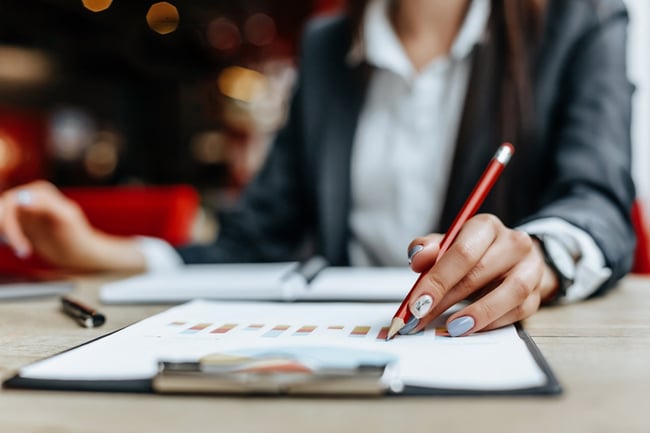 Looking for how to grow profit margins in your store? 
Curbside pickup has been the only way many retailers have been able to sell their goods in the advent of Covid-19.
Now a lot of people are counseling all retailers that they must ship and return for free; they must offer buy online, pickup in store, and even deliver to trunk like Amazon for their customers. Those programs are all giveaways that add expense and little to the discussion of how to improve sales margin.
Unless you're Amazon with unlimited resources from stockholders, you'll notice such costs have to be made up somewhere. Your Retail Sales Strategy must be focused on the need to carry profitable items in your store, not just products you personally like in your home.
Let me back up…
Gross profit margin is a measure of a retailer's profitability, calculated as the gross profit as a percentage of your revenue. Gross profit is the amount remaining after deducting the cost of goods sold.
If you don't already know your average profit margin of your store, before you go any further, talk to your accountant or bookkeeper about what your operating expenses are, your variable costs, and cash flow.
Here are 15 Ways to Increase Profit Margins For Retailers
Increase prices. You can selectively raise the price of your most popular items to most effectively add to your bottom line. If you are one of the lucky retailers who is slammed with revenge buying customers, remember scarcity gives you cover to raise the price if you have the merchandise. You don't have to increase prices across the board. And remember small business owners, no one knows the price you pay but you.

Narrow your focus. You can't be all things to all people. It's the difference between a restaurant with a menu of 200 mediocre items and one with twelve items that are outstanding. Wegmans recently cut 40 percent of their SKUS to avoid out-of-stocks on staples. Consider how much profit you are making on your slower-moving items. Could that shelf space be devoted to quicker-moving, more profitable items? Yes!

Limit the discounting. Without a plan, you'll do

anything

to get money in the bank. I know one toy store owner who, when she had to pay bills, turned to Twitter to tell her followers they'd get 30 percent off if they came in that day. She thought she was brilliant. What she didn't realize was that she was robbing herself of profit to pay her bills. She was teaching customers to simply wait for the next tweet. She needed a quarterly promotions schedule, and so do you. Customers in the time of Covid-19 seem less driven by price than safety. 


Cut waste.

You want to get more done with who you have, even if you are not at full staffing yet. Are there jobs you're hiring others to do that you could possibly complete with staff? Do you really need to pay a window washer, for example?

Schedule employees to need. Do you have three people to open when you could use two for the first couple hours? On the other side, add staff if you are slammed every Saturday, so you don't make customers wait and lose them to a competitor. With more shoppers working from home, the conventional thinking that Saturday will be the busiest shopping day is not longer true.


No overtime. Period.

Don't let hourly managers fill-in for lower-cost hourly employees. Use salaried employees if something comes up.

Don't schedule for the convenience of your employees. If all you need Vance for is four hours, then give him four, even if she would rather work eight. And don't forget to stagger shifts to help prevent the spread of the pandemic. 


Award extra hours based on merit.

Grant employee requests for more hours based only on their average sale or number of units sold per customer, not simply on their request or need. Even with a pandemic, you still have to reward those who are helping you sell the merchandise, not just be nice to people.

Personally hand out all paychecks. When you personally see how much each staff member takes home, it makes costs real for you. Adding a thank you with this magic word is a bonus. 

Give bonuses when deserved. Pay bonuses that are proportionate to the amount of profit the business brings in rather than total sales numbers. Otherwise, you could be rewarding an Expressive or Driver personality type salesperson who discounts to make the sale, robbing you of the profit.

Look for theft by matching inventory to sales. A restaurant franchise I know audits for internal theft by simply matching how many cups it receives to the number of drinks ordered. A full-featured POS system can help you track what came in the back and went out the front and what went missing.

Cut vendors. When you buy more from fewer vendors, you'll often get a better deal on pricing, shipping, and dating. Ordering only a few items from a number of different vendors requires more bookkeeping and tracking, and you often pay top-dollar to try to meet each one's minimum orders. Even with the unknowns about merchandise forecasting, no one's items are that special.

Combine your orders with other dealers to get freight and larger order discounts. Just be sure to decide ahead of time which of you will do what, and pay before delivery to avoid problems.

Sell added value by bundling products and services. Best Buy's Geek Squad promises it can fix

any computer problem-anytime, anywhere

. Of course it leaves off

For a price

. People don't want the hassle of figuring things out or screwing things up. Customers value their time and will pay for worthwhile services related to the products you carry. Selling added value is the way to a very profitable future.

Fire unprofitable customers. Those who need a lot of hand-holding, always beat you up on price, or constantly call you with some problem take up a lot of time. If your company is large enough to evaluate this, ask your order desk or sales reps to provide their top 10 complainers and match them to the amount of

profitable

orders they generate. Even if they deliver large volume, if they don't pass, tell them that while you appreciate their business, the costs to manage the account outweigh the profitability and you therefore must implement a price increase.

See also, Retail Consultant Advice: Raise Your Prices. Here's How…
In Sum
It used to be the best times to evaluate operating profit margin was after you've done a full physical inventory to see how much of your money is on the salesfloor, during the first quarter after the dust has settled from the holidays, and around tax time when you have a current profit and loss statement. It is also when things are quieter so your sales data is clearer after markdowns to clear away seasonal goods.
With the advent of Covid-19, most any time will be a good time to review your numbers.
And it doesn't mean you have to just sell high-priced items, there is a way to sell low profit margin products. The key is to never be afraid to find ways to increase your profitability and to not ever assume improved margins only come by cutting staff.
That said, most of my posts revolve around retail sales training which is how you grow sales by increasing number of items sold and selling the more expensive item. Those too help increase your profit margins.
Use these 15 retail management tips to help improve your profit margins so you'll be in business for years to come.