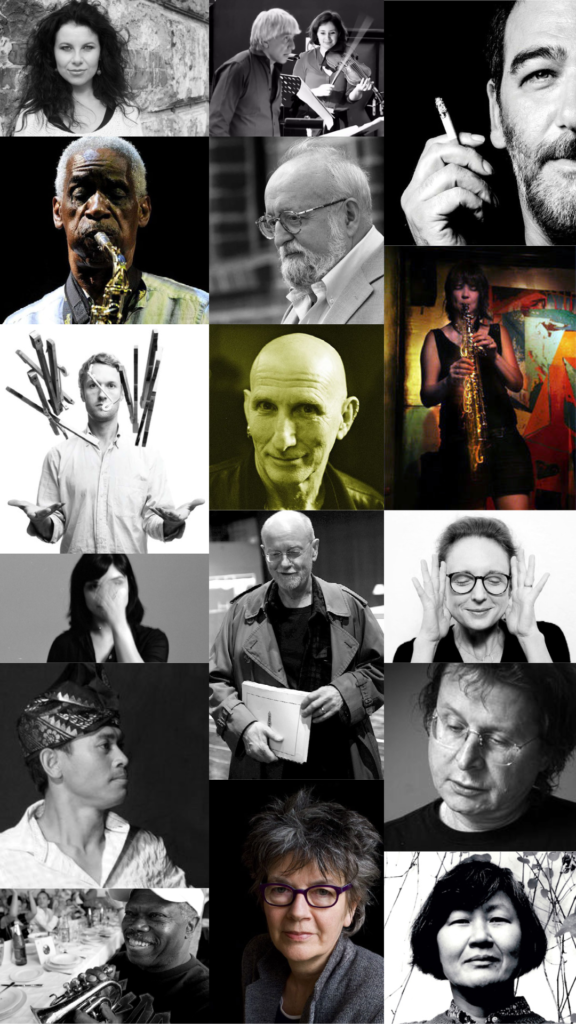 Two years ago, Noah Creshevsky, a committed advocate of fixed-media composition, and one of the musical voices lost to us in 2020, asserted that "today's best seats are in our own homes or wherever we may be, listening to music through speakers or headphones, in chairs of our choosing, with or without extramusical diversions." It's a sentiment reflective of both the mobility available through digital devices and the Internet, and the advancements in recording engineering over the past generation. Most music just sounds better in state-of-the-art recordings than in concert halls, and such modern accoutrements as Web searches and streaming media offer a degree of choice and accessibility unattainable through traditional means.
Creshevsky could not have anticipated how drastically his proposition would be tested from March 2020 onward though, as COVID lockdowns suddenly quashed most in-person concertizing and large-scale recording. It turned out that people badly missed the social aspects of traditional concerts, whatever their logistical costs or acoustic inferiorities. And though ensembles and opera companies valiantly tried to substitute livestreamed concerts for the real thing, this proved a poor substitute to most listeners, dissatisfied with the technical limitations of real-time content delivery using home computers as a terminus. Urbanites, the responsible ones anyway, have tended to lean on social media to help replace in-person socializing, while favoring existing, non-real time media (streaming, downloads, CDs and YouTube) for their music consumption (which chiefly consists of conventionally published albums and songs).
Production cycles being what they are, the lockdowns haven't produced an overwhelming decline in actual album releases, as record labels continue to issue previously recorded content alongside new solo and other small-scale, health-conscious recording projects. Intriguing material continues to flow into the Radio Eclectus inbox, and If a drought materializes, it will probably be felt a year or two down the road. Producers have also been reaching into their vaults during the lockdown to bring forth older material, rescuing dormant projects or reissuing others that had long been unavailable. High-end opera companies have been especially prominent in this effort (e.g., Metropolitan Opera's regular streams of past productions), with the ironic result that in a year that saw the shuttering of opera houses, it's operatic publications of various sorts that will open my list of the past year's most noteworthy new releases in the domain of contemporary Western art music.
New music theater
Not surprisingly, most of the video entries on the list are European. The economic and human impacts of the COVID pandemic in the US, exacerbated by the incompetence of the Trump administration, have amplified the longstanding trans-Atlantic disparities in arts support, leaving European institutions practically alone in mustering the resources for high-end contemporary music focused video and intermedia production, even if many of these releases had an earlier provenance.
Now on to audio-only recordings.
Anthony Gatto: Wise Blood (New Focus) and The Making of Americans (New Focus)
Narrative music needn't be conventionally staged to be effective. The earliest radio dramas, including such musically extended ones as Hindemith's Sabinchen, predate musique concrète by a good two decades, initiating a lineage taken up spectacularly by Anthony Gatto in these two works, which were conceived as a kind of installation (in the case of Wise Blood, premiered as such in 2015 at the Walker Art Center) and as a stage work later converted into a radio opera (in the case of The Making of Americans).

Wise Blood is adapted from Flannery O'Connor's first novel, whose action begins on a train with a number of flash-forwards, then settles into a small, post-WW2 Tennessee town whose demons are many and easily roused. Gotto uses a mix of spoken and sung texts to represent the web of dysfunctional relationships—kind of a hyper-personalized, non-linear concept of music theater that owes more to Einstein on the Beach than to conventional opera. The Making of Americans, presented here in its later form as a fixed-media piece, is based on Gertrude Stein's modernist novel, and features contributions from Zeitgeist, the JACK String Quartet, several vocal soloists, and the recorded voice of Stein herself

Charles Wuorinen: Haroun and the Sea of Stories (Spotify)
The ultimate Uptown composer meets the ultimate cancel culture survivor in this 2004 operatic setting of Salman Rushdie's 1990 novel, recorded herein for the first time by Boston Modern Orchestra Project and Gil Rose. Haroun was the first book written by Rushdie under the fatwa and death threats associated with The Satanic Verses. It's a fantastical—and allegorical—children's story, which despite its serious undertones relating to censorship and other social issues, contains much humor and whimsy…words that were seldom associated with the late Charles Wuorinen. And yet this piece is uniquely jocular in the composer's oeuvre, indeed one of his most unusual and ambitious works, probably closer in temperament (and setting) to Henze's contemporaneous L'Upupa than to Wuorinen's usual models in Schoenberg, Varèse, Carter, late Stravinsky, and his fellow Ivy League serialists
Scelsi's heritage and Sorabji's wrath
Two of the 20th century's most eccentric and obsessive composers factored into some important posthumous releases in 2020.
More from the old masters
Masters still at it
Undead masters
Patricia Kopatchinskaja et al: What's Next Vivaldi? (Spotify)
Der Finger: Le cinque stagioni (Bandcamp)
PatKop takes on Vivaldi in the company of Giovanni Antonini and Il Giardino Armonico, in the process intercutting several of the Venetian's string concertos with five new works for violin (either solo or with Baroque instruments) by living Italian composers. It holds its own in the impressive discography of this quirky Moldovan-Swiss soloist. And then there's Der Finger, a Russian band with a German name and an album whose title means "The five seasons" in Italian. Their instrumentation features sax/bass clarinet plus drums and electric bass, and the result can be described as noise music meets free jazz with bits of Vivaldi's Four Seasons thrown in
Gabriel Prokofiev et al: Beethoven Reimagined (Spotify)
The obligatory Beethoven entry for his 250th birthday comes from Gabriel Prokofiev, whose spiking of the Ninth Symphony is the most interesting of the semiquincentennial offerings, following in the tradition of Louis Andriessen's 1970 bicentennial parody, and benefiting from the British musician-producer's experience grappling with the legacy of famous composer names
Microtones and minimalism
Microtonality is one of the few growth industries in today's musical avant-garde. Minimalism, on the other hand, is a blue-chip stock that can be counted on to return a steady if predictable dividend. The following entries are representative of the state of both practices, sometimes simultaneously.
Concertos redux
Barry's is one of many prominent concertos to debut on record in 2020, a year that, for whatever reason, turned out piles of solo concertos and solo electronic music. Generations of composers have regarded the traditional concerto format, with its arbitrary isolation of a single instrument before an ensemble that evolved as the apogee of monumental sound projection, as an aesthetic contrivance. But the appeal of showcasing a star performer seems to mitigate the risks of programming a unfamiliar contemporary piece in the eyes of orchestra managers, so commissions for this medium seem to flow more easily than other kinds of orchestral works.
As evinced by the following selections, Europeans seem best equipped in general to find relevant contemporary expression through the modern orchestral medium. It's a European invention after all, whereas Americans, at least after Ives, have tended to be more inventive when we're tweaking the established order rather than trying to adapt it to new zeitgeists.
Rouse's title offers a segue into other orchestral genres. Such as…
Thomas Agerfeldt Olesen: Der Wind bläset wo er will (Dacapo)
I was not familiar with this particular Danish composer, which was my loss, since the title piece ("The wind blows wherever it wants", as Jesus says in the Gospel of John) is a quintessential postmodern orchestral work, whose musical ideas do indeed seem to arise from unexpected directions, including elements of pastiche and even a twangy South Asian musical bow called a gopichand. Among Olesen's other works is a 2013 opera based on Oscar Wilde's The Picture of Dorian Gray
Iceland Symphony Orchestra, Daníel Bjarnason et al: Occurrence (Spotify)


Veronique Vaka

Iceland continues its remarkable streak of orchestral relevance with this latest ("and at least for now the last") volume from Daníel Bjarnason and Sono Luminus. It's a survey of five works by Iceland composers (including Canadian transplant Veronique Vaka) that demonstrates the slowly-changing washes of color that we associate with this country's contemporary music

Steven Mackey: Time Release (Spotify)
Mackey is a rock guitarist by trade, who gradually got interested in instrumental composition, influenced by the both the international avant-garde and the Downtown New York scene. I think of him as an American counterpart to someone like Heiner Goebbels or the late Steve Martland, and the eclecticism and unpredictability of his music is well presented in this second album devoted to his works by Boston Modern Orchestra Project
Composed chamber and solo music
Get your ambient fix
The late Harold Budd (1936–2020), when told by Ryley Walker "I love falling asleep to your records" replied "You look like you haven't slept in weeks". Budd's own "soft pedal" sensibilities are best conveyed through his live recordings, including a pair of delicate improvisations with bassist Keith Lowe captured in concert in 2009 and broadcast for the first time on Radio Eclectus #76. A few albums of more experimental bent (if similar sensibility) came along in 2020, ideal bedtime music for ideal listeners.
Darker ambient
Electronic
Ear-stretching anthologies
The assembly of musical anthologies was another activity embraced by producers eager to compensate for the COVID-era's dearth of new recording projects. Several of these albums highlight underexposed gems from places far from the scrutiny of mainstream music journalism.
Traditional singing meets free improvisation, and other intercultural explorations
London Experimental Ensemble: Child Ballads (Bandcamp) and Child Ballads Exclusive Bonus Tracks (Bandcamp)


Carole Finer (photo: Stefan Szczelkun)

Another of the year's most astonishing releases. London Experimental Ensemble first burst onto the scene in 2018 with the first ever complete recording of Cornelius Cardew's Treatise. These two volumes from 2020 feature vocalist Ed Pettersen's "straight" rendition of several traditional Celtic ballads, accompanied by the Ensemble's deliciously noisy but downtempo improvisations. It continues a tradition of colliding musical genres that includes Salvatore Martirano's own Ballade, wheren a 60s pop singer ("You are too beautiful, my dear, to be true…") is accompanied by chamber pointillism—like hearing Johnny Mathis with Webern's Op. 22 as the backup band. My favorites from this collection are Captain Wedderburn's Courtship (about a kinder, gentler, Scottish Turandot) and the more apocalyptic sounding Among the Blue Flowers. These albums memorialize the late Carole Finer, folk and experimental musician and Scratch Orchestra veteran, whose suitably scratchy violin sounds can be heard throughout these tracks

Adam Rudolph: Focus and Field (Bandcamp)
Rudolph earned a spot on my 2019 list for his remarkable Ragmala album, featuring Western and South Asian musicians. This new album, recorded live at Roulette just before the March 2020 lockdowns, is dominated by the long track Tsuzumi, which features Sumie Kaneko singing a 12th century Japanese text alongside a mix of East Asian and Western instruments drawn from the Go: Organic Orchestra lineup. It's a multicultural counterpart to Child Ballads, sounding like a cross between Takemitsu and the Art Ensemble of Chicago
Eunhye Jeong et al: The Colliding Beings, Chi​-​Da (Bandcamp)
Of a similar nature is this album from Eunhye Jeong's trio, versed in international free improv, performing alongside Il-dong Bae, one of the masters of Pansori singing. Recorded in Seoul in 2019
Eyvind Kang: Ajaeng Ajaeng (Ideologic Organ)
Another flavor of cross-pollination comes from this versatile musician, born in Corvallis, OR and resident, at various times, in Canada, Europe and Asia. In Tanpura Study, a pair of those ubiquitous Indian drone-makers are played, uncharacteristically, as solo instruments, using a variety of traditional and non-traditional plucking techniques. Time Medicine is a more proper sort of drone piece, featuring two tubas, two bass drums, violin, cello, some percussion, and a pair of ajaengs, Korean string instruments with movable bridges akin to a koto, but which are bowed rather than plucked. Kang, a violist by trade, has always been fond of finding new uses for old things
Dewa Alit: From when i OPEN MY DOOR (Bandcamp)
Alit is a Balinese composer and gamelan master. This portrait album includes one contemporary gamelan piece, combined with three compositions for Western instruments, including Open My Door, created in 2015 in collaboration with Ensemble Modern which Alit regards as "opening my door to the [avant-garde, non-Balinese] world"
More improv and avant-rock
Other media
Langham Research Centre: Quanta / Signal / Noise (Bandcamp)
An unusual project from the UK's most intriguing live-electronic repertory band is available both at Bandcamp and as an interactive app for iOS devices. Four realizations of this piece are available on the Bandcamp album, and you can make your own with the largish (245 MB) iOS app
Ellen Zweig with Z'EV: Heart Beat Ear Drum (Vimeo)
With all the media spotlights aimed at Alex Winter's new Zappa documentary (with an accompanying soundtrack album that includes some previously unissued performances with Ensemble Modern among others), I'll aim a modest flashlight on Ellen Zweig's new documentary about a far less famous, but still worthy, musician: Stefan Weisser (1951–2017), better known as Z'EV, and much admired among his peers for his solo percussion performances that featured homemade instruments made of reclaimed and surplus pipes, ductwork, appliances and other miscellaneous wood and metal objects from which he could coax interesting sounds. Despite his reputation as a "junk musician", Z'EV preferred scrapyards and surplus stores over garbage dumps for his raw materials ("I like the object to have a history already—it has to do with the whole found object thing"). The 75-minute video includes interviews with Weisser and several of his collaborators and associates (including Carl Stone), with plenty of performance footage going back to the 1970s
Older and non-Western music
…on to 2021
Whether Creshevsky was right in his assertion about concerts versus recorded music—and whether the environment for art music in the 2020s will end up resembling the chaos of the early 17th century as the Thirty Years War sent German and French fortunes careening in opposite directions—one can at least admire the pluck, resilience and initiative of the artform to which these remarkable projects all attest, proof of the breadth and adaptability of a tradition that deserves to endure and thrive.